Unilever Bangladesh Limited (UBL), the country's leading Fast-Moving Consumer Goods (FMCG) company, signed an MoU on 22 June with Chattogram City Corporation (CCC), and Young Power in Social Action (YPSA) for improved plastic circularity in Chattogram City Corporation at an event at the Radisson Blu Chattogram Bay View in Chattogram.
Md Rezaul Karim Chowdhury, Honorable Mayor, Chattogram City Corporation (CCC), was present at the MoU signing event as the chief guest. Sheikh Mohammad Tauhidul Islam, Chief Executive Officer, Chattogram City Corporation (CCC), Zaved Akhtar, CEO and Managing Director, Unilever Bangladesh Ltd. (UBL), and Palash Chowdhury, Finance Director, Young Power in Action (YPSA), signed the MoU on behalf of their respective organisations.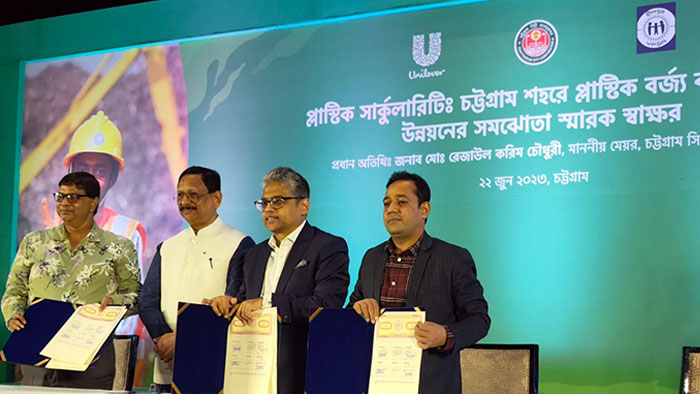 As a lightweight and cost-effective packaging material, plastic is essential for ensuring product availability to consumers, especially for consumers in rapidly developing economies like Bangladesh. However, plastic pollution has become a growing concern and plastic should be kept in a loop to ensure a sustainable future for all. To address plastic pollution, systemic change is required to establish a circular economy for plastic. As part of Unilever's global compass commitment, Unilever Bangladesh is committed to taking action on plastic waste challenge in Bangladesh through the "Less plastic, better plastic, no plastic" model, and heading to a waste-free and sustainable Bangladesh. Since 2020, the company has been working on diverse plastic waste management initiatives started in Narayanganj and then gradually expanded to Dhaka and Chattogram.
Unilever Bangladesh in collaboration with YPSA started a plastic circularity project in Chattogram City Corporation in 2022 with the vision to enhance the informal value chain and increase plastic waste collection. Since June 2022, 7000 tonnes of plastic waste have been collected, more than 2000 waste workers were trained and received livelihood support, and 100% collected plastic was recycled. Based on the learning, the initiative is now going to continue in the coming years and under the MoU, Unilever and YPSA aim to collect 10% of Chattogram's plastic waste, strengthen 5000 waste worker's livelihoods, increase citizen awareness and formalise the informal recycling value chain in Chattogram.
Special guests of the event—Mubarak Ali, Honorable Councilor and Chairman of the Standing Committee for Waste Management, Chattogram City Corporation (CCC), Mohammad Abul Hasem, Acting Chief Conservancy Officer (Deputy Secretary), Chattogram City Corporation (CCC), Hillol Biswas, Director (Deputy Secretary), Chattogram Metro, Department of Environment—along with Shamima Akhter, Director, Corporate Affairs, Partnership, and Communication, Unilever Bangladesh Ltd. (UBL) participated in a panel where they discussed the challenges and opportunities of holistic plastic waste management.
Md Rezaul Karim Chowdhury, Mayor, Chattogram City Corporation, said, "Plastic has helped the human civilisation but the mismanagement of plastic waste has become an environmental threat to humankind. The canals in Chattogram suffer from the devastating effects of plastic waste, leading to the demise of fish, making land infertile, and causing waterlogging during monsoon. The Karnaphuli River stands as a stark example, where accumulated plastic obstructs the river's flow, impervious to regular dredging. We do not have time to lose and must act together. Today's gathering gives me the hope that we are walking towards the right direction by collaborating.  I am hopeful that the collaboration between CCC, UBL, and YPSA is helping to enhance local value chain, support our waste workers and driving plastic circularity in Chattogram.
Zaved Akhtar, CEO and Managing Director, Unilever Bangladesh Limited, said, "As a part of Unilever's global commitment to improve the health of our planet, we have been driving innovative approaches to plastic waste management since 2020, which includes innovation in packaging, and creating and managing a sustainable model for plastic waste collection. To support Bangladesh's Vision 2041, we must address plastic pollution and act faster to protect our environment. At Unilever, we started working through our multistakeholder model and collaborate with a wide range of stakeholders in the value chain to bring the desired changes. Although we are proud to share that we have collected over 7000 tonnes of plastic waste from Chattogram and have ensured that 100% of the collected plastic is recycled, this is not enough to improve Bangladesh's overall plastic pollution. Hence, we have established a partnership with Chattogram City Corporation and YPSA to bring economies of scale and increase our collection efforts. I extend my gratitude to the honourable Mayor of Chattogram City Corporation, Mr. Mohammad Rezaul Karim Chowdhury, whose tireless dedication to his city's welfare has been truly exemplary. Furthermore, I express my appreciation to Arifur Rahman, the CEO of YPSA, for his leadership and support. Through our initiative, we have embarked on a journey that holds the promise of creating a better and more sustainable world for generations to come. It is my hope that through our efforts, we will move towards the vision of plastic circularity in Chattogram City."
Arifur Rahman, CEO, Young Power in Social Action (YPSA), said, "Young Power in Social Action (YPSA) started its journey from Chattogram, and we have been working for the development of this city for more than 3 decades. As the city has developed over time, the waste management, especially the plastic waste, has not developed at the same rate. This has resulted in waterlogging during monsoon seasons, as well as an increase in marine waste. Thus, working in developing the plastic waste management system is a cause close to our hearts. The initiative is enhancing plastic waste management have yielded remarkable results in safeguarding our city's environment and fostering sustainable practices. It is a collective responsibility for each and every one of us to protect our environment and ensure the proper management of waste in Chattogram city. Let us rally behind the noble mission and create a clean and sustainable Chattogram City."
-Press release-