United International University (UIU), Dhaka along with Young Power in Social Action (YPSA), Bangladesh, Visual Impaired Peoples Society (BVIPS), Access Bangladesh Foundation (ABF), Disability Rights Fund (DRF), Federation of DPOs Sitakund and UIU Electrical and Electronics Club (UIUEEC) organized a seminar on "Scope of Education for visually impaired people & Facilitating access to published works" on Saturday 19th September, 2015 at the UIU auditorium hall, Dhanmondi, Dhaka. The main focus of the seminar was to create awareness on the current scenario regarding accessible books, publications and technology for people with visual and print disability.
Bangladesh government has taken up a number of initiatives to promote the rights of people with disabilities. According to WHO disability report 2011, 15% people in Bangladesh have some form of disability out of which around 4 million people are visually impaired. A large part of this group is deprived of learning due to non-accessibility of basic learning tools at affordable price. Only a handful of the visually impaired groups are now studying at school, college and university with serious shortage of accessible reading material and technology. Modification of existing copyright law and ratification of Marrakesh Treaty may have the way to expand the scope of education for visually impaired people in Bangladesh.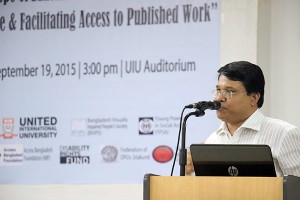 The seminar was presided over by Prof. Md. Rezwan Khan (VC of UIU). He talked about the innovation of Refreshable Digital Braille System. Prof. Dr. Fayyaz khan expressed his hope that this type of project will be taken for the betterment of persons with visual impairment. Prof. Dr. Hassan Sarwar has discussed on the opportunity and diversity of adaptive technology for visual impaired people.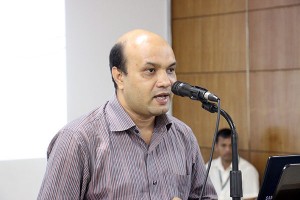 Mr. Vashkar Bhattacharjee (Focal person DAISY and YPSA) and National consultant web accessibility, Access to Information Programme (A2I), Prime Minister Office has given a keynote speech in the seminar. He has given a demonstration on accessible DAISY multimedia books also his paper has covered ICT in education challenge and opportunity to ensure accessible publications and books for students of print and visual disability in Bangladesh.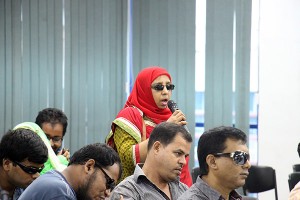 Mr. Arif Reza Anwary, Inventor and Assistant Professor, UIU has given the presentation on the project Refreshable Digital Braille Display funded by A2I, Easy Digital Braille Learning tutor and Mr. Ashiqur Rahman Amit has given presentation on Daisy Talking book on Android System.
Ms. Nazma Ara Poppy, General Secretary of BVIPS has given importance to create awareness on Marrakesh Treaty ratification.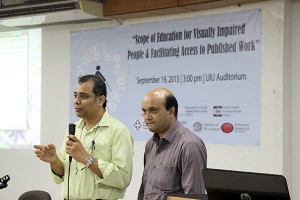 Mr. Albert Mollah, Executive Director of Access Bangladesh mentioned in his speech that persons with visually impaired need to discover new ways by updating with latest technologies and devices to make their dream true. Government is working to build a Digital Bangladesh, so policy makers and relevant authorities should consider about the needs of visual impaired persons at the very beginning of whatever they do. There are 86 public and private universities in Bangladesh. Isn't it possible a single university can take 'first mover role', to start disability studies program?
Afzal Hossain Sarwar Policy Expert (A2i program) of Prime Minister's office, assert that, Government will promote such innovative project from service innovation fund.
Media coverage:
The Daily Sun : Tech can help enhance reading capacity of visually impaired readers
The Daily Ittefaq : Technology can help enhance reading of the visually impaired
BSS: Tech can help enhance reading capacity of visually impaired readers
Download presentation (MS Power Point, Size 1.20 MB)